Archive Page 27
GD Star Rating
loading...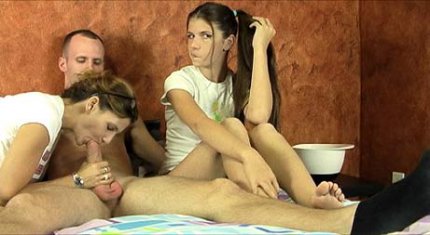 Sexy MILF Makala Lee is really nasty, when she catches barely legal JC with her boyfriend Brent watching a porn show she doesn't get mad with her, instead, she even prepares a bag oh buttery popcorn for them. This ravishing mom enjoys watching the movie so she decided to join them and sits beside Brent. As Mrs. Lee's cunt tingle, she starts rubbing Brents cock. Teen JC can't believe it when hot MILF kneels down in between her boyfriend's big cock and starts giving him head. Mrs. Lee's voracious mouth swallows Brent's huge boner whole. Moments later the girls tag team Brent's dick. These sluts can't wait to get that creamy explosion of hot spunk from his balls. See how they make it shoot hard, where Mrs. Lee aims that jizz-spurting dick right on naughty teener JC's asshole.Watch and download cock sucking vids of real hot moms swallowing big cocks until they explode with cum at See Mom Suck.
GD Star Rating
loading...
Some of the best CFNM situations happen right out in public, where many a girl can and most likely will at some point encounter a guy who just happens to be without clothes. It varies upon the culture, but one thing is for sure, it will inspire a vast array of reactions from the girls involved. That's what this post of amateur CFNM occurring in public is intended for, the differing reactions these naked guys get from the girls. First up seems to be an initiation type of game where the losers end up having to strip naked in front of the entire lecture hall, followed by a compilation of various amateur naked guys whom are with fully clothed girls in public settings. Then there's another sort of initiation type event where a big group of girls and guys perform the dance choreography from Michael Jackson's "Thriller" around a public fountain with many spectators. Then there's a cell phone video documenting a guy that looks to have lost a bet and is having to get on a transit train, completely naked, with girls taking pictures the entire time. The next set of four public CFNM videos are very much more overtly sexual in nature. Jack Hardin again manages to strike up a conversation with a MILF while walking around completely naked and jerking off at the Folsom St. Fair, even letting her snap some photos for her to look at later. Following this is another exhibition of CFNM at the Folsom St. Fair, but of four guys submitting to dominant women on stage in front of everyone. Now the last two are pretty edgy, especially for the blog, as they are compilations of a fairly aggressive "jerk flasher" who films himself openly jerking off in front of women waiting at a train stop. He even jizzes on one of the girls at one point! I've also included four galleries of outdoor CFNM produced in Russia, I would guess, featuring content from CFNM Tales and CFNM Dogging. That just makes there be a little something for everyone in this post, I believe, so enjoy!

Exhibitionist Cfnm clips on VE:
Clip 1 | Clip 2 | Clip 3 | Clip 4
Exhibitionist Cfnm clips on PH:
Clip 1 | Clip 2 | Clip 3 | Clip 4
All 4 CFNM videos on RS here
Cfnm Exhibitionism clips on PH:
Clip 1 | Clip 2 | Clip 3 | Clip 4
Cfnm Exhibitionism clips on VE:
Clip 1 | Clip 2 | Clip 3 | Clip 4
All 4 CFNM videos on RS here
Harsh outdoor CFNM:
Gallery 1
Gallery 2
Gallery 3
Gallery 4
Package Check | My Dick Flash
CFNM Partners: Cfnm 100 | Cfnm Blogs | Hot CFNM | Alfamina Cfnm
It was the office party a few days back and a good time was had by all. I got lucky with a girl from accounts who has a bit of a reputation for shagging anything that moves. One of my colleagues, who I always saw as one of the boys, found the condom packet and asked what had been going on. I told her what I had been up to with the girl from accounts. How was I to know that the girl from accounts was my colleague's best friend? She wasn't very happy about it at all and decided to start taking out her anger on my poor old cock - with the flat of her hand. Must be more careful where I leave condom packets in future!
See this and MUCH more CFNM handjob action on Harsh Handjobs
GD Star Rating
loading...
I've been getting comments and a few emails requesting interracial and cock shock CFNM, so I figured I would deliver some in a post. I just love the reactions that occur when even a porn actress is introduced to a truly big dick, especially in the situation where she's clothed and the guy is exposing himself to her. So first up is an old school scene of this variety, which I believe came from the "big dick surprise" series originally starring Jake Steed, starring a blonde that can barely believe her eyes, let alone suck it. Then a new comer to the adult industry is completely blown away by Castro's enormous cock, from BangBros Network's Monsters Of Cock site. This is followed by a great clip of a brunette jerking off the biggest cock she's ever seen in her life, from the Hush Pass network. Then there's an incredibly good retro CFNM blowjob and measuring scene starring the legendary John Holmes, where you finally see how big he truly was. Then I've dug up a fan meeting encounter between Tatum Reed (who runs I Love Popwhore) and the guy who would later actually enter the porn industry and become a porn actor for Whitezilla. Tatum really goes into deep detail about his cock while she's doing her best to blow him, thoroughly enjoying having such a large cock to play with. Then, thanks to a contribution tip from slam3000, I've made a late (but great) addition of Brandi Belle having her first sexual encounter with an African American guy – she watches him strip and jerk off, she measures his dick, and subsequently sucks it. Then lastly is an off-topic to CFNM, but incredible 20 minute long cumshot compilation featuring the truly enormous and crazy wad shooting Matt Hughes. He's the new face of the Hush Pass network's Whitezilla site, but was featured in a few videos from Pure Cfnm way before that. You will be completely amazed by the girls' reactions to both his cock and the huge amounts of cum he shoots! What's especially cool about this compilation is that each cumshot is replayed in slow motion. All in all, there's close to an hour of cock shock CFNM you'll only find here on All Things CFNM. Enjoy.


CFNM scenes on VE: Clip 1 | Clip 2 | Clip 3 | Clip 4 | Clip 5 | Clip 6
CFNM scenes on PH: Clip 1 | Clip 2 | Clip 3 | Clip 4 | Clip 5 | Clip 6
Get all six cock shock CFNM clips on Rapidshare in one file here
CFNM on VE:
Click here
CFNM on VB:
Click here
On RS here
Featured: BangBros | Monsters Of Cock | Hush Pass | Whitezilla
Cfnm Partners: Cfnm 100 | Cfnm Stories | Hot CFNM | Cfnm On YouTube | New CFNM
GD Star Rating
loading...
Today I've put together an interesting array of videos that feature naked men being observed by clothed females. One of the best sources for amateur CFNM of this completely pure and really basic scenario is Kay's Planet, and is first up in line. Kay, the creator and CFNM fanatic who runs the site has focused quite a bit on interviewing everyday amateur women about what they like or dislike in a naked male, with one standing right in front of her. It's a fantastic model for any social experiment, as well as awesome for CFNM fans, and is exactly what you'll see in the first two clips. I then have four clips featuring girls watching guys jerk off, in a variety of settings. First in this group is a hot CFNM webcam session where two girls watch a guy jerk off, even stripping down to help him orgasm. Second is of an avid exhibitionist who waits for the maid to come into the room while he has headphones on, jerking off to porn on a laptop. She leaves initially, but then comes back to not only watch him jack off and cum, even offering him a towel! The third and fourth clips are of another amateur exhibitionist, who goes to Asian clothing stores and openly jerks off while trying on pants. In the third clip, the two women merely watch, but in the fourth, she actually lends him a hand a couple times before seeing him ejaculate. Then lastly are two great (and long) Japanese CFNM scenes, which you can find from sources like Asia Movie Pass and Zenra CFNM. The first involves two amateur women that are quite fascinated by the guy's cock and how he can make it jump, ultimately watching him jerk off and catching his cum in a glass. The second scene involves an older woman who walks into the room, only to be completely shocked to see a guy completely naked and jerking off. The reactions in all of these clips are pretty fucking great, if you ask me, and wonderful examples of amateur CFNM. Definitely leave some comments after you check everything out!

CFNM on VE:
Clip 1 | Clip 2
CFNM on PH:
Clip 1 | Clip 2
Much more here!
Observational CFNM on VE:
Clip 1 | Clip 2 | Clip 3 | Clip 4
Observational CFNM on PH:
Clip 1 | Clip 2 | Clip 3 | Clip 4
Get all 4 CFNM clips on RS here
Japanese CFNM on VE:
Clip 1 | Clip 2 | Clip 3 | Clip 4
Japanese CFNM on PH:
Clip 1 | Clip 2 | Clip 3 | Clip 4
Get all 4 CFNM clips on RS here
Featured: Kay's Planet | Asia Movie Pass | Zenra CFNM
Cfnm Partners: Cfnm 100 | Cfnm Stories | Hot CFNM | Cfnm On YouTube | New CFNME
Although I'm doing a major observational CFNM post tomorrow, but lost track of time. I was checking out Club Tug videos and completely spaced the fact that I could also watch videos from See Mom Suck! It's really a fantastic deal, especially if you love the interplay between older women and younger women in CFNM scenarios like I do. Plus being a member gives you access to a handful of other porn sites with their own unique content. I've picked out a couple of scenarios from two of the sites in the network that you should enjoy, so feel free to check them out.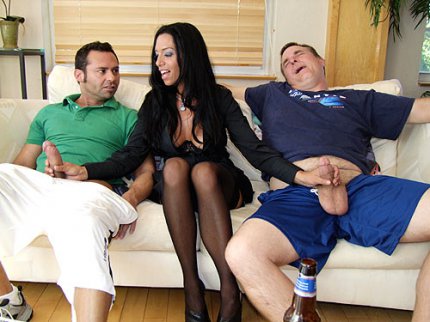 Mr. Franklin and Joey are busy watching porn when they decided to have a jerk off session. Mom Trixie catches them right on the act, she's wearing a flimsy outfit and with matching pantyhose and these guys just can't take their eyes off at her! MILF Trixie saw their cocks get bigger, and this cougar slut just have to get her hands on those beefy dicks! See this mom simultaneously jerk two cocks until they bursts hard on her face! Download the whole movie inside Club Tug, and see more smoking hot amateurs giving wild tug jobs inside their exclusive website.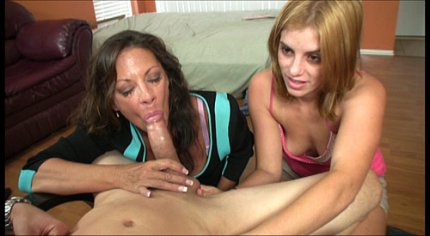 Perv mom Mrs. Sullivan and her teenage stepdaughter nearly gets evicted... but don't, thanks for their sharp minds, quick wit and talented mouths! Check them out in these sizzling hot scenes as they persuade the eviction officer to give them another month to pay the rent, by teasing him and offering to blow his dick until it shoots hard right on their horny faces! Watch Mrs. Sullivan as she coaches teen babe Breanna, licking and sucking that dick first before letting this horny teen slut shove that rock hard cock in her teen throat! Who can say no to a wild tag team BJ? Download the entire video inside See Mom Suck, and see how this mom and teen tandem make this guy's dick shoot hard on their horny faces just to avoid the rent. You can see more amateur moms giving hardcore blow jobs with teen girls when you sign up.
Featured Cfnm: Club Tug | See Mom Suck

CFNM Partners: Cfnm 100 | Cfnm Blogs | Hot CFNM | Alfamina Cfnm | New CFNM
GD Star Rating
loading...
One element that takes a CFNM situation to a whole other level is adding riskiness to the mix. And it doesn't get any more risky and therefore more exciting, than when it happens out in a public place. Keeping this element of public CFNM in mind, I've put together eight clips of risky hand job and blow job action that occur in and around cars. Fun, right? So first off are four CFNM dogging videos from overseas. Dogging basically is a way for swinger types to meet up in public car parks (much like a rest stop here in the U.S.) and have strings free sexual encounters. It's hot as Hell to watch and I think you'll agree as you view two French women sucking off multiple strangers, all with their husbands sitting in the car with them! The next three, however, come from Dogging Missions, featuring somewhat established British porn girls going out to these car parks and sucking off multiple strangers. The fifth video comes from the BangBros Network's site Bang Bus, featuring a girl that they've picked up in the van off the street, who eventually is faced with a guy jerking off in the back seat. The sixth comes from Cum On Dagny and features her sucking off her husband in a parking garage, filled with potential voyeurs that could catch them at any time. Then there's an intriguing compilation I made of one guy who has filmed himself jacking off in his car while he asks girls on the street for directions. It's pretty fucking crazy footage for sure! And last but not least is a backseat uncensored Japanese CFNM blowjob by a super hot girl – with anyone around to possibly watch. Hopefully you'll appreciate these public CFNM clips and leave some commentary so we can have some discussion about it.

Dogging CFNM on VE:
Clip 1 | Clip 2 | Clip 3 | Clip 4
Dogging CFNM on PH:
Clip 1 | Clip 2 | Clip 3 | Clip 4
All 4 CFNM clips on RS here!
Public CFNM on VE:
Clip 1 | Clip 2 | Clip 3 | Clip 4
Public CFNM on PH:
Clip 1 | Clip 2 | Clip 3 | Clip 4
All 4 CFNM clips on RS here
Featured Cfnm: Dogging Missions | Cum On Dagny | Bang Bus | 1000 Giri
Cfnm 100 | Cfnm Blogs | Hot CFNM | Alfamina Cfnm | New CFNM
GD Star Rating
loading...
There's one brilliant, yet disappointing difference between European and American erotic trade shows – interactive erotic stage shows. They are frequent and leave little to the imagination, the most recognized being the annual FICEB erotic film festival held in Barcelona, Spain. Male and female porn performers alike bring audience members on stage to do erotic shows, not only getting naked for them and the entire audience of hundreds of people, but occasionally getting the amateur girl or guy in on some action. So, I've put together some awesome, albeit somewhat off topic to CFNM, footage from various erotic festival stage shows where some great action was recorded. First up are two NFNM videos where the female porn performers both bring up guys from the audience, strip them naked, and have a bit of fun with them onstage. These are followed by two CFNM videos, the first featuring Marcello Bravo with a fellow porn performer doing a stage show, followed by a straight up male stripper routine, courtesy of Scandal Shows. I should mention that there's literally tons of this type of erotic festival stage show footage available through Wank Pass, giving you access to Scandal Shows & Public Sex Shows. You also get access to the CFNM sites Strip Club Cheaters & Girls In Control, as well as a few other porn sites – all with a 1$ trial. Then comes a holy grail find – thanks to "uder" over on the Sensations 4 Women forum, who found it on a Mexican porn forum. Basically, the video is from an erotic festival of some kind, but was shot by the producers of the porn site Arnaldo Series found on the FaKings network. Since it's a Spanish forum and a Spanish site network, I couldn't do the deep research I wanted, but have some details. Apparently there was a bachelorette party that attended the erotic festival and got involved with the male stripper act. He brings up girl after girl, along with a couple of older women in their group, working them into the stage show. It's pretty damn amazing how far a few of these girls go, given that there's a sea of photographers and people watching them – even if the lights are low at times! It's an hour long and was in very high quality video, so I converted and cut it up into parts for streaming, and have provided both a high and lower quality version for download. This is a DO NOT MISS type of video, where the girls are completely real, even having to have their faces blurred out for privacy reasons. But it's obvious that they jerk, suck, and in one instance in part two, even tittyfuck the stripper. There's even a sex show with a female porn star that ends the full show in part four. Incredible footage, incredible REAL CFNM that's always so great to see! Enjoy this huge batch of video and be sure to leave some comments.

Erotic performer clips on VE:
Clip 1 | Clip 2 | Clip 3 | Clip 4
Erotic performer clips on PH:
Clip 1 | Clip 2 | Clip 3 | Clip 4
Get all 4 CFNM clips on RS here
Sexshow stripper clips on VB:
Part 1 | Part 2 | Part 3 | Part 4
Sexshow stripper clips on VE:
Part 1 | Part 2 | Part 3 | Part 4
High quality version on RS here & here
Lower quality version on MC here & here
Featured Cfnm: Scandal Shows | Arnaldo Series
Cfnm 100 | Cfnm Blogs | Hot CFNM | Alfamina Cfnm | New CFNM
GD Star Rating
loading...
CFNM from mainstream sources like non porn production movies and television seems to be becoming more available recently. For the longest time, scenes in movies and especially on TV, male nudity in the company of clothed females was a rarity. But with the advent of reality television and mainstream movies becoming more edgy, I think that CFNM situations will no doubt continue to be seen more often, like I've previously shown in this post & this post. This post in particular isn't much different, however the new Showtime reality show simply titled "Gigolos" has female first sex and CFNM spiced in practically every episode. So I've provided scenes where a MILF who hires and directs her own 5-way, a shy girl exploring her fantasy of controlling a guy, a couple exploring watching one another fuck somebody else, and another MILF who gets her gigolo to fuck a birthday cake for her. Then there's four clips consisting of CFNM scenes from non-porn production movies, clips six and seven admittedly coming from sexploitation movies – all with some fantastic CFNM moments you wouldn't expect. Then I've found, edited, and shared with you all some fantastic CFNM footage from television's Big Brother reality show series. The ninth clip features some hot action leading to a quick CFNM handjob, followed by some CFNM hijinks during a party, but finishing with two compilations of first five CFNM and mixed nudity shower footage, ending with five varied CFNM moments from the show. Lastly is a long and incredibly rare spectacle of a couple from Big Brother Germany's 8th season, where viewers of the live feed were treated to not only a blowjob but some very passionate CFNM sex. Enjoy all this and be sure to leave some commentary, please!

Gigolos CFNM clips on VE:
Clip 1 | Clip 2 | Clip 3 | Clip 4
Gigolos CFNM clips on PH:
Clip 1 | Clip 2 | Clip 3 | Clip 4
Get all four CFNM clips on RS here
Mainstream movie CFNM on VE:
Clip 5 | Clip 6 | Clip 7 | Clip 8
Mainstream movie CFNM on PH:
Clip 5 | Clip 6 | Clip 7 | Clip 8
Get all four CFNM clips on RS here
TV CFNM clips on VE:
Clip 9 | Clip 10 | Clip 11 | Clip 12
TV CFNM clips on PH2:
Clip 9 | Clip 10 | Clip 11 | Clip 12
Get all four CFNM on RS here
CFNM sex on VE:
Part 1 | Part 2
CFNM sex on PH:
Part 1 | Part 2
CFNM on RS here
More Cfnm: Cfnm Show | Cfnm Watchers | My Dick Flash | Package Check
Cfnm 100 | Cfnm Blogs | Hot CFNM | Alfamina Cfnm | New CFNM
GD Star Rating
loading...
I've been going off on different spins on the typical CFNM fare that we're inundated with via the Internets for awhile now, and decided to do a little more with this post as well. This is another one of my CFNM handjobs and CFNM blowjobs mix posts, but these clips aren't all that traditional, and are kind of kinky in their own ways. First up is a clip where Chica, from Chica's Place teases the living crap out of her husband while driving that, when they get home, he demands a handjob – cumming into her hands that she then uses like lotion. Then a busty blonde MILF explains why she enjoys big dicks while she slowly strokes one, and not in a very nice way, from the always intriguing Hand Domination. Then there's a very long and drawn out "milking" type handjob by a super cute brunette, from the incredibly expansive Jizz GFs site. Then in fourth position is a face sitting, 69 position handjob from Mistress T which has every bit of the incredibly hot and imaginative dialogue you see in all of her videos. Now with the CFNM blowjob videos, I stuck strictly to amateur footage, much like Jizz GFs's member-submitted videos, starting with a blonde who can deep throat and face fuck better than most seasoned porn stars. Then there's a cute redhead girl performing a awesome blowjob, as well as a foot job at one point when her boyfriend decides to finger her simultaneously. The seventh video features a married woman purposely calling her husband on her cell phone while she's sucking another guy's big cock, even slapping her face with his dick during the conversation! Then lastly is a compilation I made of one German couple that loves to record all the different ways the girlfriend enjoys bringing off the boyfriend. I've even included three extra galleries worth of movies of even more amateur CFNM action from Jizz GFs, if you were curious to see more of what can be seen through their site. Enjoy!

Handjob CFNM on PH:
Clip 1 | Clip 2 | Clip 3 | Clip 4
CFNM handjobs on VE:
Clip 1 | Clip 2 | Clip 3 | Clip 4
See more here, here, here, & here
CFNM blowjobs on VE:
Clip 1 | Clip 2 | Clip 3 | Clip 4
Blowjob CFNM on PH:
Clip 1 | Clip 2 | Clip 3 | Clip 4
Get all four CFNM clips on RS here

Gallery 1 | Gallery 2 | Gallery 3
Featured: Jizz GFs | Chica's Place | Mistress T | Hand Domination
Cfnm Partners: Cfnm 100 | Cfnm Stories | Hot CFNM | Cfnm On YouTube | New CFNM